What and Why?
---
Youth conferences within the LENScience Healthy Start to Life learning modules support the development of capabilities associated with critical citizenship, including scientific and health literacy. Conferences take adolescents out of the classroom and place them in the role of citizens, examining and critically appraising socio-scientific issues (SSIs) that impact their communities.
Youth conferences are organised by teachers in partnership with health and other relevant sectors.
Ideally the conference is the starting point for the learning module.
The conference should be held off-site if at all possible.
Conferences enable students and teachers to meet and interact with professionals and community leaders who are engaged in addressing the SSI that students will explore in the learning module.
Conferences are very active 'hands-on' experiences placing students in the role of critically engaged citizens and exposing them to the world of professionals and community leaders engaged in addressing the relevant SSI.
It is important that students leave the conference with ideas to explore that could lead to evidence-based actions.
Ideally the learning modules also end with a small conference, organised by the students (suported by their teacher). These events provide students with the opportunity to communicate their learning with parents, their peers, or members of the community that they choose to invite. They place students in the role of 'science communicator' and create opportunities for students to continue the conversation at home.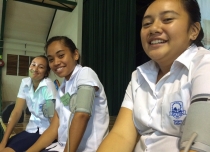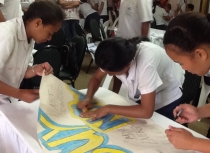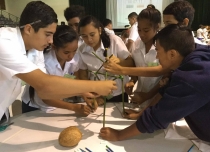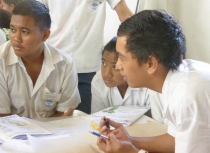 Top
The Design Model
---
Our youth conference design is adapted from "SOS - Skills and Opportunities in Science for Girls", a programme developed by Bev Farmer, Liz Godfrey and Lorraine McCowan of the Auckland College of Education in 1989. Farmer et al. were interested in addressing issues associated with low numbers of girls engaging in career opportunities in science and technology.
We have identified that our adapted conference design is effective in engaging students in examining SSIs and exploring links between science and society. The conferences create opportunities for students to identify the relevance of science to their lives and the importance of links between science and society. Additionally they expose students to potential career options. Youth conferences create a spring-board from which teachers build opportunities for students to explore SSIs such as the diabetes epidemic or sustainable energy use. The inquiry-based learning that occurs in the LENScience learning modules over a period of between 4 and 8 weeks is designed to lead students towards evidence-based decision-making and action-taking.
Our adapted youth conference model is designed to be used in cross-curricula contexts where science, health and PE, social sciences and the arts are working collaboratively. While the model could equally be used for a single subject approach, given that SSIs are complex issues that require engagement from across science, technology, arts and humanities (Kahn & Zeidler 2016) we encourage schools to consider a cross-curricular approach.
References
Farmer, B., Godfrey, L., & McCowan, L. SOS-skills and opportunities in science for girls, workpack and video. Auckland: Auckland College of Education. 1990
Farmer, B. 'Do You Know Anyone Who Builds Skyscrapers?'SOS—Skills and Opportunities in Science for Girls. In Gender, Science and Mathematics (pp. 167-176) 1996. Springer Netherlands.
Kahn S, Zeidler DL. Using our Heads and HARTSS*: Developing Perspective-Taking Skills for Socioscientific Reasoning (*Humanities, ARTs, and Social Sciences). Journal of Science Teacher Education. 2016;27(3):261-81.
Top
Conference Resources
---
Resources to support schools or clusters to run their own conferences are provided on the pages to the right.
These resources have been developed collaboratively by educators, scientists, health professionals and community leaders involved in each conference and working with the Liggins Institute.
All resources provided on these pages have been trialled and shown to be effective. Research reporting on evaluations will be posted as this becomes available.
Funding for the development, evaluation and publication of the resources is listed under each conference page.
If you are using these resources please reference the source appropriately.
For more information about the resources please contact lenscience@auckland.ac.nz
Top