LENScience
---
Harnessing Biodiversity
---
The resources presented here originate from the LENScience Connect Senior Biology Seminar Series. They are designed to support learning in senior secondary school classes. The recordings of the seminars and students resources are al accessible from this page. Contact with Steve Wratten and his research team is via the LENScience Connect Community.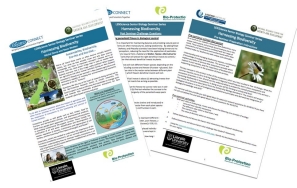 Addressing loss of biodiversity: A socio-scientific issue of relevance to New Zealand and the Pacific
---
As a result of our isolation, Aotearoa-New Zealand has many unique native plants and animals which are found nowhere else in the world. These endemic species combined with the range of ecosystems and constituent communities found within New Zealand, make our biodiversity both unique and vulnerable. Plant pests, pathogens and weeds cause severe losses in New Zealand's primary production industries and threaten our natural ecosystems. Greater and more diversified trade and tourism is increasing the risk of the introduction of such unwanted pest organisms. This situation is compounded by land use intensification, changing attitudes towards the acceptability of traditional pest management strategies and potential climate change effects on pest incursion and establishment.
Protecting our plant-based primary industries from such threats is of vital importance to New Zealand's economy. This can be achieved through bioprotection science.